Waikiki Holiday Parade
We have made the difficult decision to cancel the 2020 Waikiki Holiday Parade that was scheduled for this November 27. We felt it was our only option given the uncertainty of the coronavirus pandemic.
The 2021 Waikiki Holiday Parade is going to be a big year so we can all focus our positive energy there! Please mark your calendars for November 26, 2021 to join the Waikiki Holiday Parade in commemorating the 80th Anniversary of the Attacks on Pearl Harbor.
Until then our friends, be well and stay safe!
Me ka mahalo piha, With a fullness of gratitude
Friday, November 26, 2021
Friday, November 25, 2022
Friday, November 24, 2023
Commemorating the Anniversary of the Attack on Pearl Harbor
The Waikiki Holiday Parade commemorates Pearl Harbor by honoring survivors and veterans in memory of the attacks from December 7, 1941. Local Hawaiian bands, marching bands from the mainland, military units, local officials and dignitaries march down torch-lit Kalakaua Avenue along Waikiki Beach. It is held annually the Friday following Thanksgiving Day and hosts thousands of spectators, residents and visitors alike.
---
News & Updates
With very heavy hearts we share that Jake Peppers, our dear friend, colleague, and founder of the Waikiki Holiday Parade, passed away on December 1, 2015.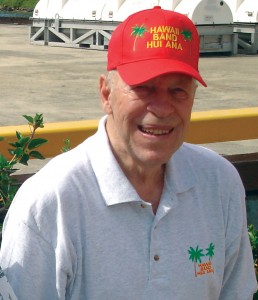 Whether you talked to Jake once, or more likely 20 times, you had a new friend for life. Jake loved his life and his work. We've never worked alongside anyone as passionate about our great country, the state of Hawaii and honoring our nation's veterans, especially Pearl Harbor Survivors. His passion was evident as he watched each performance with teary eyes at Pearl Harbor and in the Waikiki Holiday Parade.
We will continue to carry on the tradition of the Waikiki Holiday Parade under the strict guidelines that Jake would expect.
---
Watch below for regular updates on newly accepted bands.
The 2019 participating marching bands from the mainland include:

Slinger High SchoolSlinger, WI
Carl Sandburg High SchoolOrland Park, IL
Fayette County High SchoolFayetteville, GA
The 2018 participating marching bands from the mainland include:

Farragut High SchoolKnoxville, TN
Evans High SchoolEvans, GA
The 2017 participating marching bands from the mainland include:

Oak Park High SchoolKansas City, MO
Gilbert High SchoolGilbert, AZ
The following mainland bands marched in the 2016 parade, commemorating the 75th Anniversary of the attacks on Pearl Harbor.

Altus High SchoolAltus, OK
Ambridge High SchoolAmbridge, PA
Asheville High SchoolAsheville, NC
Batavia High SchoolBatavia, IL
Blue Springs High SchoolBlue Springs, MO
Brentwood High SchoolBrentwood, TN
Burlington Teen Tour BandOntario, Canada
Central High SchoolLittle Rock, AR
Danvers High SchoolDanvers, MA
Dover High SchoolDover, PA
East Coweta High SchoolSharpsburg, GA
Hamilton High SchoolHamilton, OH
Jefferson High SchoolBloomington, MN
Lakeside High SchoolAtlanta, GA
Liberty High SchoolBethlehem, PA
Morgan County High SchoolMadison, GA
Mountain Ridge High SchoolGlendale, AZ
North Penn High SchoolLansdale, PA
Northern State UniversityAberdeen, SD
Oregon City High SchoolOregon City, OR
Police Pipes and Drums of Bergen CountyHillsdale, NJ
Pope High SchoolMarietta, GA
Powell High SchoolPowell, TN
Schurr High SchoolMontebello, CA
Slinger High SchoolSlinger, WI
South Washington CountyWashington County, MN
Stewarts Creek High SchoolSmyrna, TN
Virgil Grissom High SchoolHuntsville, AL
Walnut High SchoolWalnut, CA